Risk management begins by identifying, evaluating, and prioritizing risks within a process. Consequently, you can arrange your budget and resources in the best possible way to monitor and control the impact that a catastrophic event in your process could have. Furthermore, risk management can also help your process achieve its maximum potential. Risks can come in all shapes and forms but in asset-intensive industries, such as oil and gas, proper equipment maintenance is an essential part. Cenosco's Integrity Management Solution (IMS) Suite is a predictive maintenance and risk management software that will help you determine, optimize and plan task intervals.
The IMS modules can help you with inspection and maintenance execution tasks. These task intervals can be driven by a time-based interval, but, more importantly, they can be driven by a risk-based approach. With IMS, you can integrate your company's matrix consequence definitions. Accordingly, you can perform your risk-based approach in accordance with your company definitions. The ultimate goal is a clear understanding of your safety-critical elements and equipment, and intervals that both comply with regulations and ensure the safety of your assets. Below, we spotlight this feature of IMS.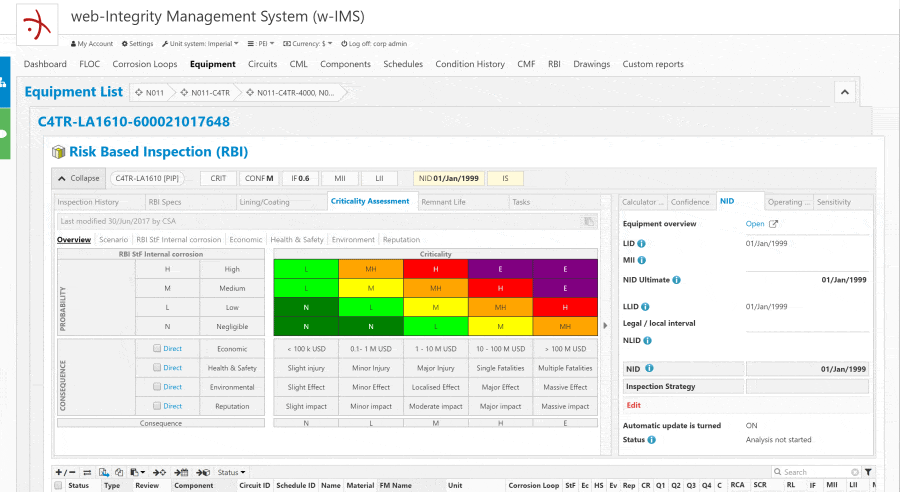 Learn More About The IMS Suite
IMS is an end-to-end asset integrity management suite. It consists of unified solutions, which operate across all your equipment types and processes. Furthermore, our solutions support users in making smart inspection and maintenance decisions. Therefore, these ultimately lead to increased safety, asset availability, and lower asset management costs. Our solution was created together with multinational oil and gas leader, Shell. Therefore, with our solutions, you can benefit from years of direct industry experience.
Has this sparked your interest?
You can use the form below to book a demo directly and see our solutions in action.